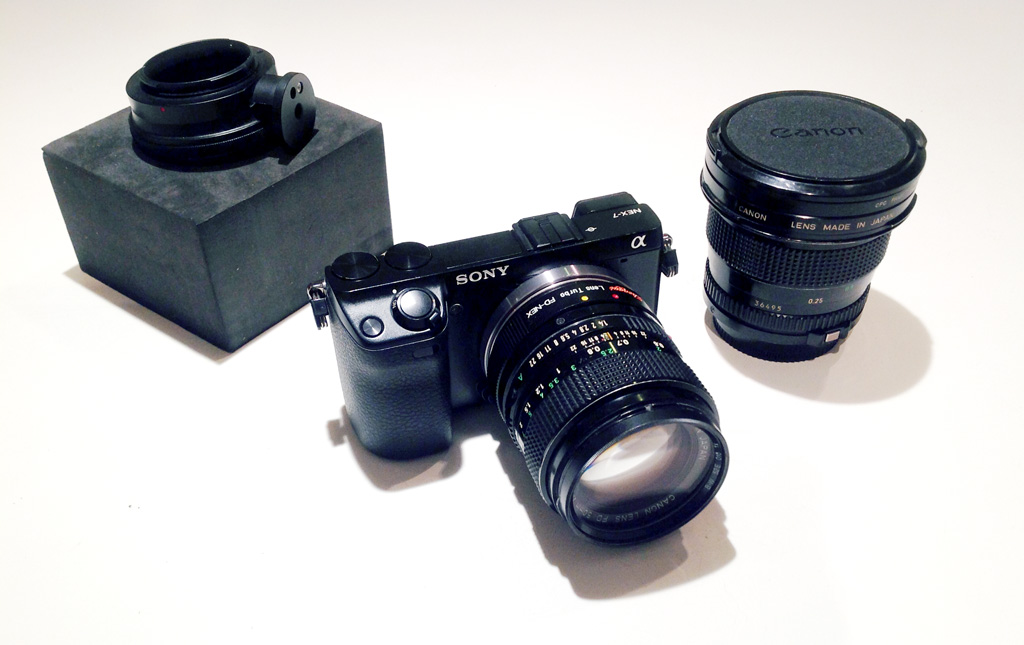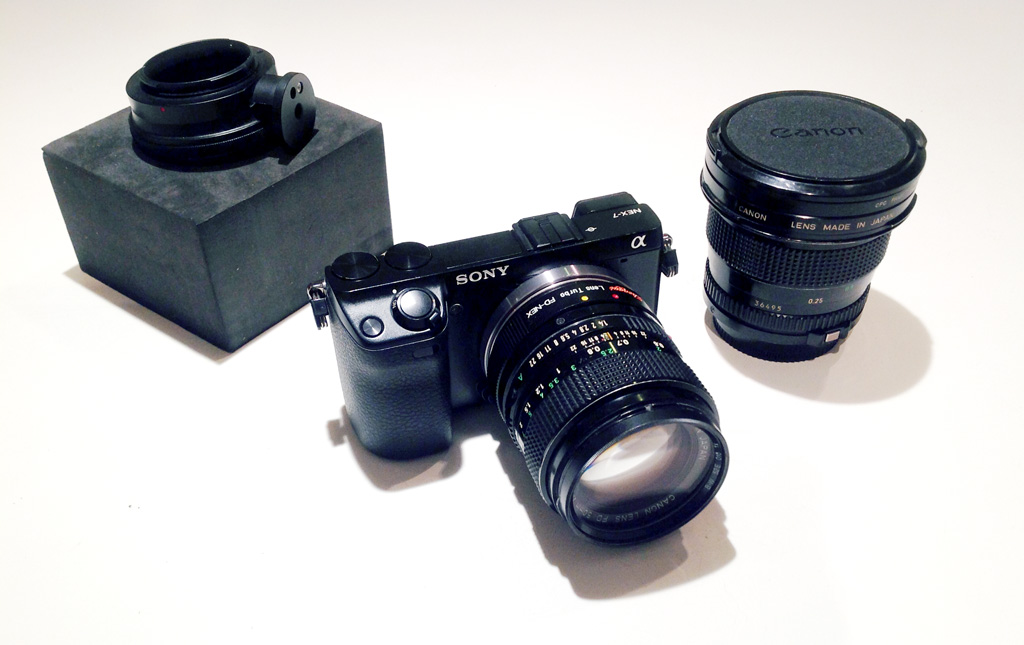 The image above shows the Sony Nex 7 with the "Speedbooster clone". With the Lens turbo adaptor for Canon FD – do we now have full frame capability with affordable Canon FD lenses?
So with all the talk of the fabulous Metabones Speedbooster taking the photography blogs by storm, it was surprising to hear that a Chinese opposition emerged after barely a few months. For those who don't know – the speedbooster has essentially removed the crop factor from APSC lenses making them "almost" full frame. More than this, the adaptor seemingly adds centre sharpness and a full stop of light – making a 50mm f1.4 (75mm equivalent on an APSC sensor) essentially a 54mm f1.0 (0.71x magnification).
While Metabones haven't made an FD Speedbooster adaptor yet , a firm called Zhongyi created their own cheaper alternative and have already made Sony Nex to Pentax, Nikon AI and Canon FD mounts available. Well, my FD mount just arrived and I'm sure many Canon FD users have been very eager to find out how this glass performs on the Sony Nex as a full frame.
While the packaging was surprisingly simple, without any branded box and just a foam container, the build quality is fantastic. It fits snugly on both the camera and the lens. The Lens turbo is smaller than the initial FD adaptor making the Nex ultimately more compact. I like how the Nex looks with FD glass – a stunning mix of old and new.
I've taken a few photos as tests. While I'm not sure if they're scientifically accurate, I've left all settings identical with and without lens turbo. The field of view is indeed widened as advertised with my 50mm behaving more like a 54mm as opposed to a 75mm on the Nex's APSC sensor and my 20mm behaving more like a 21mm (as opposed to a 30mm). There is what seems to be an extra f stop advantage as well, with some shots obviously overexposed as proof. While at f1.4, the results may be too soft with a bit of a glow, I need to do some more tests to find out the limitations. For me, the real magic will mostly come in very low light and night shots. Here are some samples that you can open in a new window to see the full sized jpegs.
50mm@1.4ISO400
Canon FD 50mm f1.4 1/320 ISO 400 with normal adaptor
Turbo50mm@f1.4ISO400
Canon FD 50mm f1.4 1/320 ISO 400 with Lens Turbo adaptor (overexposed, yet showing an added 1 stop)
Turbo50mm@f2ISO400
Canon FD 50mm f2.0 1/320 ISO 400 with Lens Turbo adaptor (still overexposed)
Turbo50mm@f1.8ISO400
Canon FD 50mm f2.8 1/320 ISO 400 with Lens Turbo adaptor
28mm@f2.8ISO400
Canon FD 20mm f2.8 1/160 ISO 400 with normal adaptor
Turbo28mm@f2.8ISO400
Canon FD 10mm f2.8 1/160 ISO 400 with Lens Turbo adaptor
Turbo28mm@f4ISO400
Canon FD 10mm f4 1/160 ISO 400 with Lens Turbo adaptor
50mm f1.4
Canon FD 50mm f1.4 1/320 ISO 400 with normal adaptor
50mm f1.4 Lens Turbo
Canon FD 50mm f1.4 1/320 ISO 400 with Lens Turbo adaptor
Problems I've encountered while not deal breakers, have to be mentioned. Opening the aperture of the lens while on the lens turbo requires some care. When putting on the adaptor, one must be careful to hook the aperture lever onto a little metal rod – this done with the lens wide open. This has been a little tricky as there is no open/lock switch on the adaptor. Another problem I do notice is the "blue dot issue" – where a blue light appears in the centre of the frame. This occurs when pointing the camera directly into light with a higher aperture. Vigneting hasn't tended to bother me much (even on my 20mm) but that could just be a personal preference. Wide open on my 50mm at 1.4 (which is really more like f1) there does seem to be some subtle light effects (I'll call them auras and rainbows) that disappear when stopped down a bit. There is also a definite color change, some have referred to it as being more green.
All in all, though not perfect… I'm delighted at this cheap $200 adaptor and what it has given me as far as field of view and extra light. I haven't done an extensive tests of sharpness or distortion, but the results seems to be quite comparable with non Lens Turbo shots. I'd be eager to hear opinions and suggestions for more tests. Coming up next will be some pixel peeping video tests, to see if this little camera setup can really compete with the full frame big boys. I'm definitely not expecting mind-blowing results, but this process has been awesome.